I finally found a way to use the beautiful ITO yarn Gima by pairing it with Juniper Moon Farm Findley, and using it to make Isabell Kraemer's Yume sweater with a beautiful lace yoke.
Several years ago I was introduced to ITO Yarns.  This is a Japanese yarn company that has produced yarn that, typical of the Japanese, comes in fun and interesting packages. My favorite presentation was Gima, a tidy little rectangle of yarn with a simple yet attractive label. I remember waiting anxiously for the shipment to arrive and how excited I was to see the dozens of little colorful packages sitting in a basket.  I searched for patterns which would be appropriate for this cotton, lace weight yarn and not finding any to my liking started a simple shawl.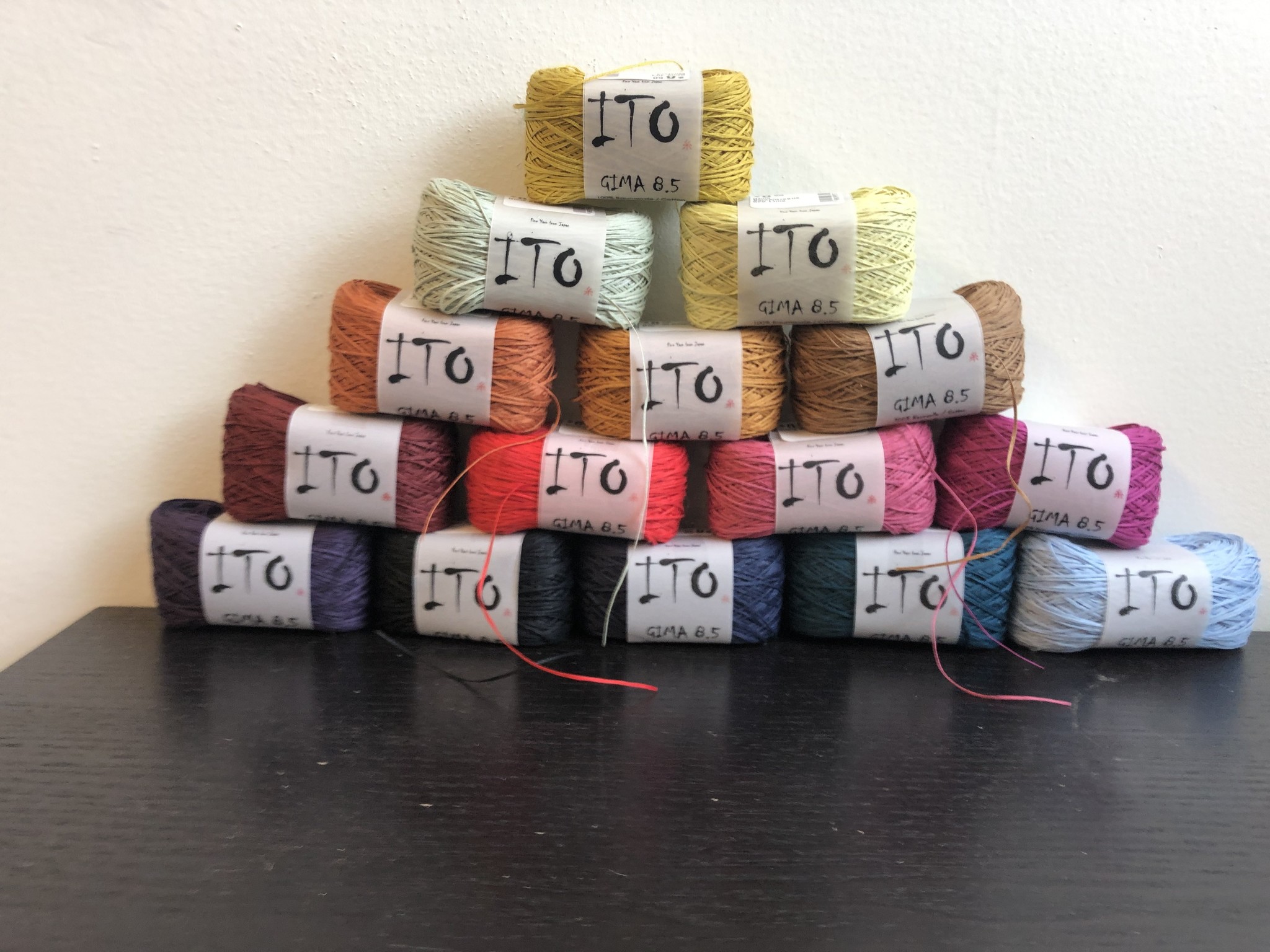 The shawl didn't get very far, and got replaced by other more exciting projects.  Because while Gima is exciting to look at, it is not that exciting to knit by itself.  The cotton is not scratchy but not soft either.  It does not have any drape.  And of course, being lace weight, would take forever to finish the project.
A few years later, I came across Yume by Isabell Kraemer.  Lo and behold, someone came up for a great way to make something like Gima: simple and attractive.  And the best part was that Gima was carried along with another yarn, in this case ITO's Shio, a lace weight 100% wool yarn.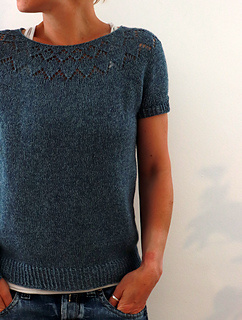 We didn't have any Shio in the shop, and me being the totally impatient person that I am, was itching to get started on this project.  But we did have one yarn that might just work in Shio's place.  A yarn I had started to neglect over the years and had considered restocking: Juniper Moon Farms Findley, a luxurious wool/silk lace weight blend.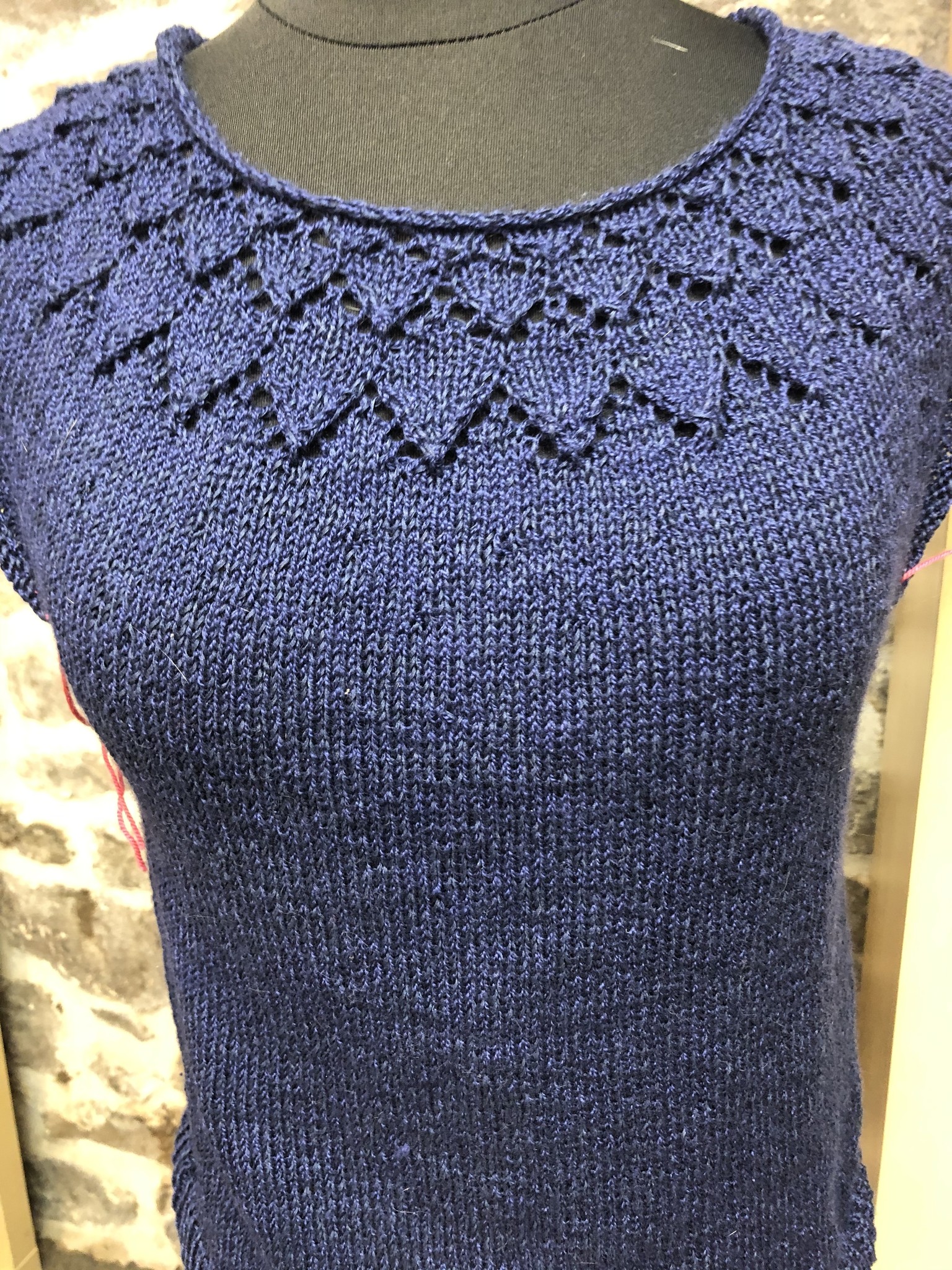 I found two colors that matched well and got to work.  I tend to be the kind of person who dreams big and is often disappointed because my dreams are more vivid and satisfying than reality.  But the Gima-Findley combo came through, surpassing my expectations by providing drape, sheen and structure.  Think about it.  The Gima adds the cotton which makes the lacework at the top of the sweater stand out, gracing the combo with good stitch definition. The Findley, on the other hand, adds the silk and fine wool, which adds drape and memory to the stitches. The result is a garment that is not too drapey, not too stiff, but soft enough and cool enough for summer wear.  Not to say that it wouldn't be equally nice for cooler weather garments.  Once I finish this short sleeve version, I am casting on a long sleeve version . . .  for myself.
-Jennifer